Virus mutations cause concern
In Cologne alone, 114 cases of variant B.1.1.7 and 52 cases of variant B.1.351 were recently reported. There will be an official overview of the actual spread at the beginning of next week, according to reports from Berlin and the website FAZ.
In view of the significant spread of highly contagious Corona variants in Germany, authorities are working at full speed to provide an overview of the situation. Early next week, there should be an official overview of the actual spread of these mutations, as government spokesman Steffen Seibert confirmed in Berlin on Wednesday. The variants are suspected of being particularly dangerous.
Experts believe the mutants are already more widespread than known. In Cologne alone, 114 cases of the mutant British virus variant and 52 cases of the South African variant were detected by Tuesday, according to a spokeswoman on Wednesday.
Nationwide, there have been reports of the detection of variants for days - most recently, for example, in the Altmark in Saxony-Anhalt, in the Vogtlandkreis in Saxony, in Cottbus, in the Elbe-Elster district, in Delmenhorst, in the Mainz-Bingen district, in the Rhine-Hunsrück district, in the Germersheim district and in the Trier-Saarburg district.
In the district of Tirschenreuth, mutations were suspected as the cause of a particularly high incidence of corona, since corresponding variants already exist in neighboring districts. 40 suspected cases of corona mutations were distributed throughout the district.
Experts also believe that the sooner the lockdown is relaxed, the faster the mutations can spread. Unlike in the United Kingdom, authorities and virologists in Germany had not yet looked closely for the variants. A Health Ministry spokeswoman said virus analyses for mutations - known as sequencing - are currently being significantly expanded, and that the Robert Koch Institute will publish the data soon.
In the UK, variant B.1.1.7 is now found in by far the largest number of samples tested. In the fall, its proportion was practically negligible.
At the same time, other new mutations are attracting the attention of scientists. For example, there is an additional mutation in the British variant that is thought to make it easy for people to become infected despite vaccinations or previous infections. It is the E484K mutation. "The virus escapes the immune system more easily," virologist Alexander Kekulé told the dpa news agency.
German Chancellor Angela Merkel (CDU) said in an ARD interview the previous day, "The only risk we have at the moment is that the mutation from Great Britain or South Africa could throw a wrench in our plans because it is much more aggressive.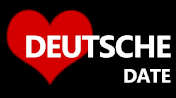 DeutscheDate is a new
German dating site
for professionals in Germany. No monthly fees, no minimum subscription period, no contracts, no tie-ins. Just a clean, simple, easy-to-use dating site for serious relationships.