Second lava flow on La Palma could form new headland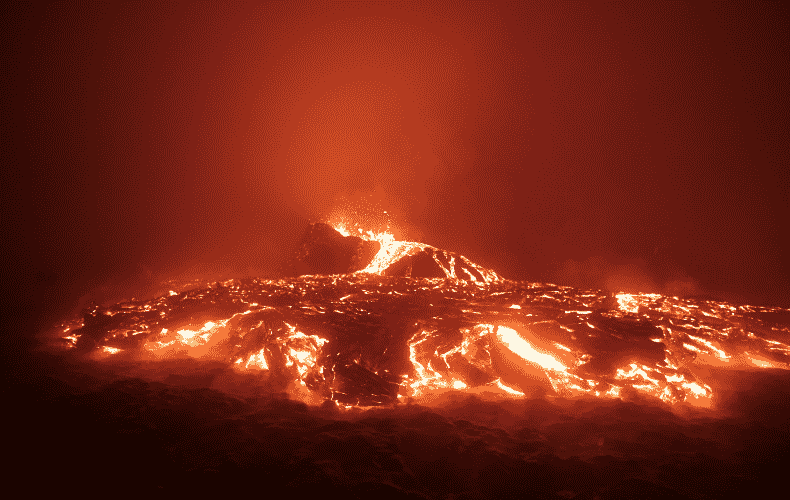 A second lava flow could reach the sea on the Canary volcanic island of La Palma on Monday and form a new headland there. The 1270-degree hot mass is about 200 meters from the sea, the Volcanological Institute of the Spanish region (Involcan) announced on Sunday afternoon.He said the lava flow was moving forward toward the sea cliffs at a speed of 15 meters per hour. The main flow has been pouring into the Atlantic Ocean for about two weeks, creating a new spit of land that was about 36 hectares in size on Sunday. About 50 soccer fields fit on it. The map of La Palma will have to be redrawn.The affected region at the mountain range Cumbre Vieja in the south of La Palma was shaken meanwhile on Sunday again by dozens of earthquakes. However, since the earth tremors with magnitudes of up to 4.6 continue to occur at depths of more than 30 kilometers, according to the authorities, they do not pose a significant danger.
According to experts, however, they indicate that the volcano will remain active for some time. "The end is probably not imminent," said on Sunday also the regional president of the Canary Islands, Ángel Víctor Torres.The volcanological institute of the Canary Islands, Involcan, even spoke of a "lava tsunami" in a tweet in view of impressive video footage. However, geologist José Mangas, professor at the University of Las Palmas de Gran Canaria, stressed that this image is somewhat skewed. "In this case, we cannot speak of a tsunami, but of lava flows of more than 1200 degrees, which become very fast because of the steeply sloping terrain," he said on the state TV channel RTVE.
The island's airport continued to be operational on Sunday, according to the operator Aena, but because of the volcanic ash dangerous for aircraft, La Palma was not approached on Sunday by airlines such as Binter for the second day in a row.Aircraft on the island had to be grounded on Sunday for the second day in a row because of the volcanic ash, according to an airport spokesman. All 38 flights scheduled for the day were canceled, according to the statement. On Saturday, only four of the 34 planned flights had been able to take off.Since the volcano became active again for the first time in 50 years on September 19, the lava has already completely destroyed more than 1,800 buildings, according to the latest official figures released on Sunday.754 hectares were covered by a meter-thick layer of lava. This area is equivalent to more than a thousand soccer fields. Around 7000 residents have had to be brought to safety since the volcano erupted.