Quiet and relaxing places to visit in Buenos Aires
Tue 24th Jan, 2023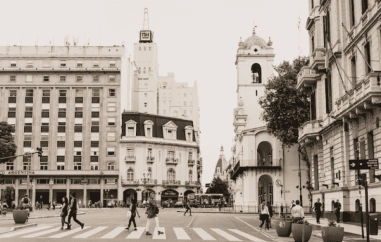 The city of Buenos Aires is really huge; its vast territory is composed of many neighborhoods of different characteristics where you can do many other activities and visit hundreds of tourist attractions.
Buenos Aires receives millions of tourists every year, it is one of the most visited cities in South America due to its unparalleled beauty and the hectic life that sweeps you away as soon as you arrive; besides, its inhabitants are amicable and always ready to enjoy and have fun.
Culture overflows everywhere as Buenos Aires is full of cinemas, theaters, museums, exhibitions, auditoriums, and much more. It is a very vibrant city where there is always something going on at night; bars, discos, places to eat, and many other activities that attract young people from all over the world. For this reason, many young international students decide to stay in the city to learn Spanish in schools like Expanish.
Buenos Aires has it all; however, the pace of life that sets the beat and routine in the city can be exhausting and overwhelming. However, this is not a problem, since just a few kilometers away from the city center there are many excellent, unique and tranquil places where you can relax and enjoy nature with just a few hours of travel.
If you are on vacation or have traveled to take spanish lessons Buenos Aires, be sure to read this article, as it can be beneficial in case you feel a little overwhelmed by the noise and intensity of the city. We will tell you which are the best towns to visit and unplug from the urban chaos, either for a few hours or a couple of days; that's up to you!
Here are the places we want to recommend to you; we hope you enjoy them!
The most beautiful quiet places on the outskirts of the city of Buenos Aires
The province of Buenos Aires has many beautiful and quiet towns and villages just a few kilometers away from the capital city. They are ideal for spending a day (or more) in tune with nature, away from the chaos of the city.
If you are looking for a fresh place, full of green, with a quiet pace that allows you to rest, then you are reading the right article. These are the places we recommend you to visit, which are less than 100 km away from the capital.
This is a town full of ranches located south of the capital, just an hour away, which makes it an ideal place to spend the day if you don't have much time.
One of the place's main attractions is its lagoon, the "Laguna de San Vicente", where you can do many outdoor activities and fish. Although it is not possible to swim in the lagoon, you can rent kayaks to go around it; anyway, the environment invites you to enjoy it in many different ways, either having a picnic at the foot of the lagoon, playing sports, resting beneath a tree while reading a book, etc. The possibilities are endless.
In San Vicente, you can also visit the old train station, where a fair offers various activities. Every year the local mozzarella festival and the regional honey festival are held there, where partying is the order of the day, and everything serves as an excuse to celebrate, eat and have a spectacular time.
We must admit that Campana is no longer a small town but a city: The City of Campana. However, you can visit many places that will allow you to enjoy the calm and tranquility you seek.
If you want to connect with nature, we recommend you take a boat ride on the Paraná de las Palmas River until you reach the Zárate Brazo Largo Bridge.
In Campana, you will also find the Otamendi Natural Reserve, an incredible place that will allow you to learn about the area's ecosystem. The reserve is home to hundreds of native plants and an extraordinary fauna; its caretakers make a great effort to reestablish the balance of the original ecosystem before the inhabitants introduce both vegetable and animal species from other places.
The reserve has a space with wooden tables and benches where you can eat whatever food you bring, something you must consider since there are no places to buy food there.
In addition, Campana also has many other cultural places of interest, such as The English Quarter, the Santa Florentina Cathedral, the Customs House, the Railway Station, the Municipal Palace, and the Eduardo Cosa Square. All this is just one hour and fifteen minutes away from the capital city.
An hour and a half away from the federal capital, there is a small old-style town called Uribelarrea. This place is so quiet and calm that it can initially give you the feeling that you are the only one there.
It is a town with so much history and ancient corners that when you visit, it seems you have traveled to the past. There you will find a wide variety of places to enjoy the best local food, traditional and rural, such as roasts and cheeses, and sausages.
Uribelarrea also has a beautiful old train station that you should visit, and many other exciting places to visit, such as The Museum of Tools, the Sanctuary of Nuestra Señora de Luján, or the Plaza Centenario.
In any case, touring the town is a beautiful experience; its small unpaved streets, where ancient buildings of exposed brick are still standing, surrounded by lots of nature-like big leafy trees, are a delight for the soul. Breathing the fresh and calm air of Uribelarrea changes your life; in fact, you will probably fall in love so much with the environment that you won´t want to leave.